MAKE SURE IT'S MADE IN AMERICA!
These marks certify Garrett's Made in USA quality inside and out.

Look for the Garrett Made in USA seal

Garrett detectors are made in America under our strict ISO-9001 Quality Management System.
Don't be fooled by imposters. All Garrett products are designed, assembled, tested for quality control and shipped from the company headquarters in Garland, Texas, USA. Garrett's ISO 9001 certified Quality Management System emblems are an outward reflection of the true quality within.
Garrett Metal Detectors has a long commitment to manufacturing its products in the United States and maintains its only manufacturing facility in Garland, Texas. Garrett does not manufacture or license for manufacture its detectors by any other company. With regard to components and accessories, the company makes every effort to obtain these from U.S. sources. In some cases due to competitiveness or availability our suppliers source globally and it is necessary to offer these items to meet the needs of our customers. All items are marked with the country of origin as required by U.S. law.
FACTS ABOUT COUNTERFEITING
Metal detector products from several manufacturers have been copied and manufactured by Chinese manufacturers. These are typically sold by Internet retailers. Garrett is most concerned about counterfeits, as our goal is to have satisfied customers who have not been tricked or cheated.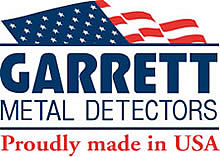 BEST WAYS TO AVOID COUNTERFEITS:
Protect your purchase by using PayPal or a credit card that helps protect you against fraud.
Look for country of origin stickers on the product. If it is a metal detector with the Garrett brand name and it is labeled "Made in China" or has no country of origin, it is a counterfeit. All Garrett hobby and security metal detectors have the Garrett Made in America seal either on the product itself, on the packaging, or both. Any "Garrett" product that is shipped from China is definitely a counterfeit.
Make certain that you are buying from an authorized Garrett dealer. Garrett has authorized distributors in countries around the world. To find the authorized Garrett Distributor in your country, visit www.garrett.com and scroll down to the lower site menu. Under SPORT, click on "How to Buy". Customers in either the United States or International markets can search for authorized dealers and distributors.
Authentic Garrett products use proprietary digital technology which the counterfeiters have not been able to duplicate. The result is a look alike product that does not work very well if at all.
When ordering the product please be cautious of extremely low prices and inquire about the location from which the product will be shipped. If the price sounds too good to be true, it's probably fake.
IF YOU HAVE PURCHASED A COUNTERFEIT:
The serial number of the unit you are planning to purchase or have purchased can be verified with Garrett for authenticity. Please email the number to Garrett's Customer Service Department and request verification.
Unfortunately we have no immediate remedy other than to assure you that trademark laws as well as country of origin labeling laws have been violated.
We encourage you to file a complaint with the seller and the website on which the product was listed. Ask for your money back citing fraudulent country of origin marking and trademark infringement. We can supply official documentation showing Garrett trademark and country of origin information if requested.
You can also help Garrett take action against repeat offenders by emailing to us any of the following that you have available:
Name of person and company selling the product
Name of the website on which the product was listed
A copy of the invoice showing company name and price of the product
Return address on the shipping package
Method of shipment
Response to your complaint on by the seller and the listing website