(Click to view full image)
WINNER #1
My United States Favorite Find for July 2021 is the

Extremely Rare Connecticut Copper Miller 6.4-K

, discovered by Wil C. from New York with his

Ace 400

.

Wil's success story: It was a nice spring day and a good one for metal detecting. I took out my

Ace 400

and went to see what I could find. Now I have never been a believer in the idea that trees are treasure troves, but I really had never searched around them. I poked around the base of an old tree and right by the roots I got a solid hit. About 8" down I pulled out this beauty of a copper coin. As if the condition wasn't enough, this variety is the Miller 6.4-K, which, according to PCGS, there are about 20 known to exist and there is a pretty good chance this is the only one that has ever been found metal detecting. So now every time I tell someone that there are only 20 known of my coin, their eyes bug out and they ask, "what metal detector did you find it with?", I reply "with my trusty Garrett."

Wil C.

WINS

an ACE Apex metal detector.

CONGRATULATIONS!!!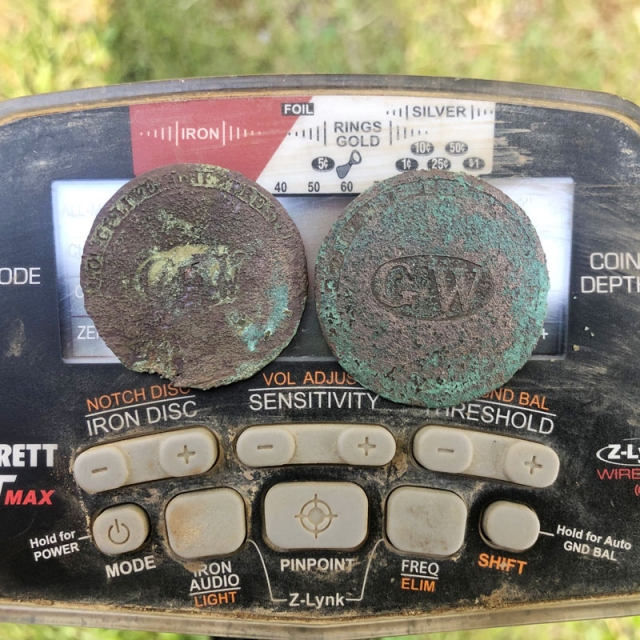 (Click to view full image)
WINNER #2
My second United States Favorite Find for July 2021 is the pair of

George Washington Inaugural Buttons

, discovered by Jacob S. from Maine with his

AT Max

.

Jacob's success story: It was July 27th and it was a very humid day here on the coast of Maine. I had just received a new permission to a large 100 acre property that I assumed had at least 1 colonial area cellar hole. Since it was so humid, I figured I would do a "test dig" for a short time just to get an idea on what the permission had to offer.. The property was mostly tall hay, and thick stubby blueberry bushes that make it tough to detect, but with my

AT Max

, I knew I could manage a few signals.

I walked around to where I suspected the first cellar hole was and found it fairly easily. I turned on my trusty

AT Max

and started to detect. It was quiet at first, but I then swung over a loud 60 signal. I cut the plug and used my Garrett pin pointer to find the target. It was a big dandy button, and as every detectorist that hunts for colonial relics does, I immediately looked to see if it had a design. The button did, and after a quick brushing, to my amazement it was a George Washington Inaugural button. I had found the holy grail of colonial buttons in my first plug at this new permission!

After doing some celebrating and calling a friend and my dad to tell them what I had found, I knew I was going to spend a few more minutes detecting in that immediate area that evening. I walked about 20 to 30 feet and my very next target I got a crisp 80-81 signal and thought for sure I was going to pull out a colonial copper coin. When I flipped this next plug, another big button was staring back at me. I was almost scared to look at it, no way it could be another GW... I turned it over and immediately saw another "GW" in the middle of the button. I was in shock! I couldn't believe I had just found 2 GW buttons in back to back plugs! What are the chances?! I never dreamed that I would find just 1 GW button...

A GW button was on the top of my "bucket list". But, being from a small town on the coast of Maine, with only a small amount of colonial settlement, I figured I would never get to see one. But somehow, I managed to find them. I can't thank Garrett enough for making such an amazing machine like the

AT Max

. My

AT Max

gives me the most confidence to go to places where other detectors would struggle. The

Max

gets the job done in those tough spots and hard to reach areas. This was a perfect example, and without it, I more than likely would have never saved those 2 pieces of history. Thank you Garrett and Long Live the President!

Jacob S.

WINS

an ACE Apex metal detector.

CONGRATULATIONS!!!

Next month Vaughan will give away an ACE APEX. You could be the next winner. Submit your story!